COLO-171S Hooper Feed Powder Gun
COLO-171S powder Coating Gun is the world's first "Intelligent" Hopper Feed powder coating gun. Its patented digital valve control can micro adjust the guns powder output to produce consistent- high quality results.
Delivering a full 100Kv of first pass power, it offers 3 pre-set powder coating gun modes for flat work, complex profiles and re-coat operations. And unlike many other powder coat machines, the CL-171S is fully adjustable allowing for precision adjustments to voltage, amperage, powder fluidization, conveying and dosing air.

Intelligent console also allows you to store up to twenty (20) different powder recipes for all of your most popular coating jobs so you can instantly call them back for use the next time you have more to coat.CL-171S ensures to coat all kinds of metal parts in a perfect coating result.

Components:intelligent 171S console,trolley cart,08 manual gun,50liter powder hopper,K1 powder injector,conductive powder hose,etc all necessary spare parts is included.
Valid time :from July 9th to Sep 9th,CL-191S is on sale, only 30sets.
original price:$1200/set,promotion:$899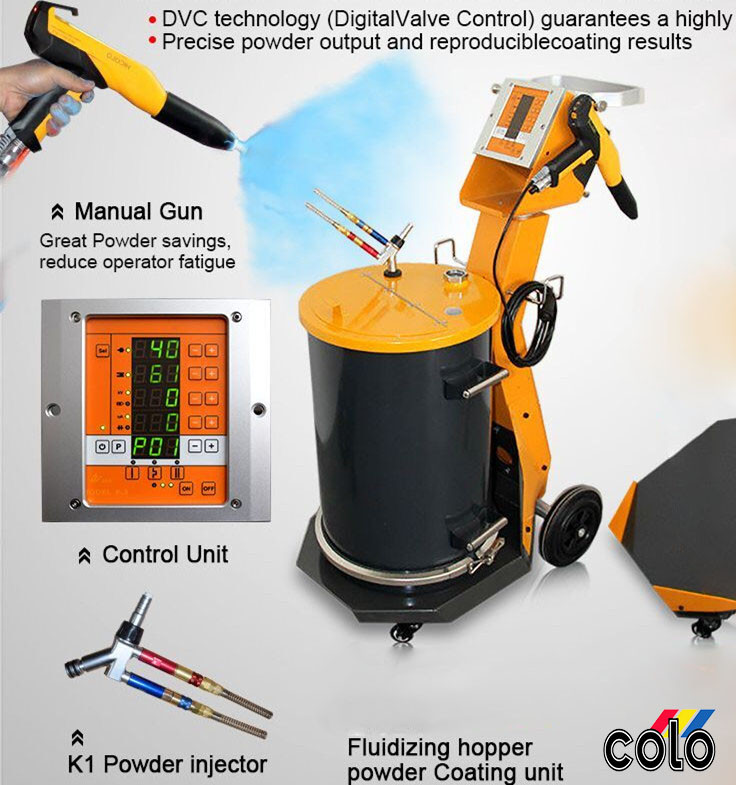 Your colo gun ships securely packaged in a wooden crate or carton directly from our factory in China. Estimated delivery time is usually only 5 to 5 days via FedEx,TNT,DHL.
Assembly is fast and easy with color coded connections and clear cut instruction written in plain English are supplied. You will also be supplied with links to several YouTube videos to help get you started.
30 sets promotion machine,COLO offers a full and unconditional 3 year warranty on all of its powder coating systems. If at any time during your warranty period you experience any trouble, simply contact us at 0086-18069805616 (Whatsapp) for immediate help,or contact us by email,skype,wechat.We have all replacement parts for your colo gun.